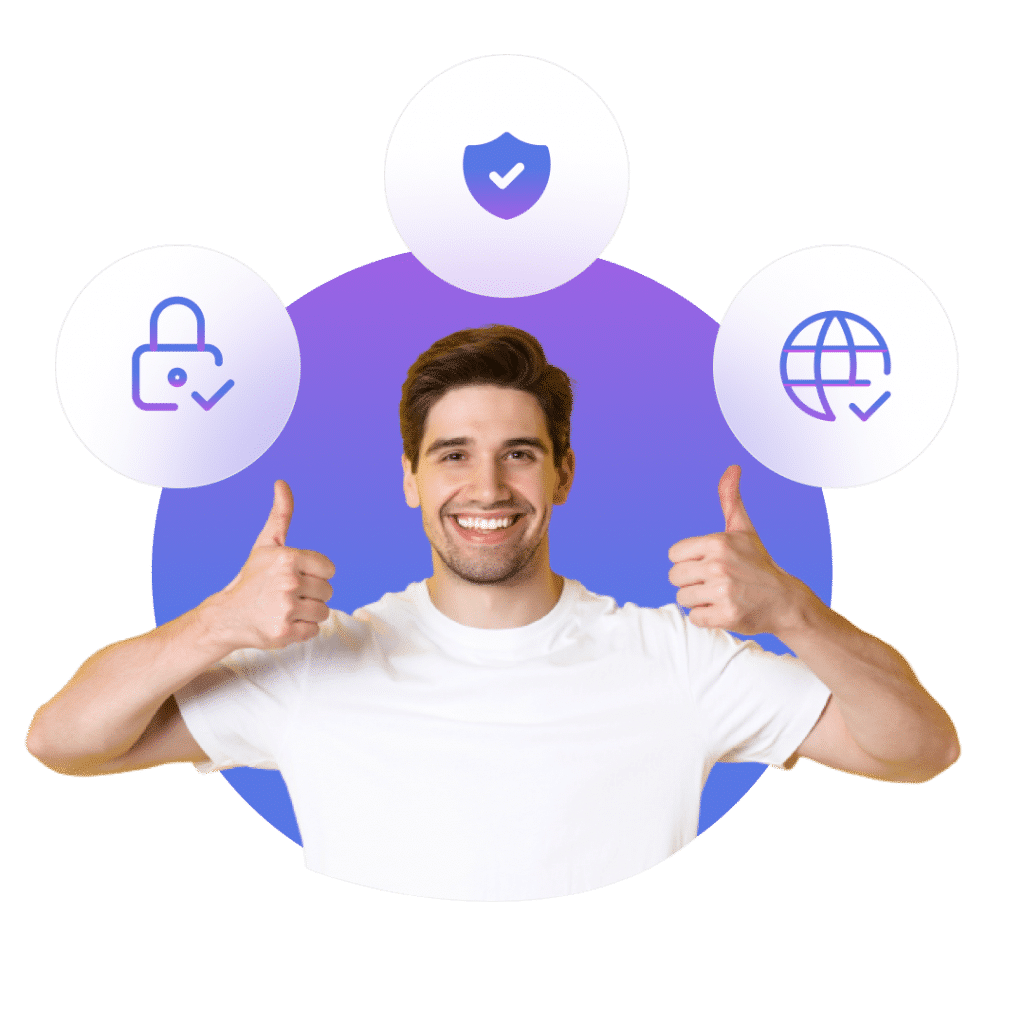 CLEMTA, Inc. ( "CLEMTA", "we" and "us") respect your privacy. We offer services that allow people to build and run their businesses, and to safely incorporate their business.
This Global Privacy Policy describes types of Personal Data we collect through our website during application and payment processes. This policy also describes how we use Personal Data, with whom we share it, your rights and choices, and how you can contact us about our privacy practices. This policy does not apply to third-party sites, products, or services, even if they link to our Services or Website, and you should consider the privacy practices of those third-parties carefully.
By accepting this Privacy Policy, the User confirms that he/she has familiarized himself/herself with this policy, understood it and agree to its terms.
1. OVERVIEW
CLEMTA obtains Personal Data about you from various sources to provide our Services and to manage our Website. "You" may be a visitor ("User" or "CLEMTA User") or a user of one or more of our Services. If you have questions about collecting and using Personal Data, then you should direct those questions to the CLEMTA.
a. Site visitors.
If you visit or use our website, we may collect your Personal Data. For example, we collect Personal Data that you submit to us via online forms and surveys, and when you contact us by email.
b. Payment processing services.
CLEMTA may use third-party services to provide payment processing and associated services (Such as STRIPE, PAYONEER, etc.). Third-party payment systems may request various payment information from CLEMTA users (credit card information, name-surname, etc.).
CLEMTA is solely the processor of personal data obtained from its services and is not responsible for the collection and processing of third-party payment systems and other payment services.
Third-party payment systems are bound by their own use and privacy policies, and CLEMTA cannot be held responsible for behaviors that violate personal data of the three-party payment systems.
c. Fraud prevention activities and activities for offering a compliant and secure platform.
The collection and use of Personal Data are critical in helping us to ensure that our platform and services are safe, secure and compliant. In the context of fraud monitoring, prevention and detection services, we may monitor insights and patterns of payment transactions and other online signals to reduce the risk of fraud, money laundering and other harmful activity for ourselves, our Users and their Customers.
2. PERSONAL DATA WE COLLECT
a. Personal Data that we collect from you.
Personal Data is any information that can identify an individual. Your Personal Data, which you provide directly to us through our Website, will be clearly visible in the context in which you provided the data. In particular:
When you register for a CLEMTA account we collect your full name, email address, and account log-in credentials. When you start using our services and initiate the process of setting up your company, we collect these types of Personal Data from you: you and your partners' name and surname, your bank account number, physical and electronic mail addresses, your identity information, your company name, other information about your company etc.
When you fill-in our online form to contact us, we collect your full name, work email, country, and anything else you tell us about your business, needs and timeline.
When you respond to CLEMTA emails or surveys we collect your email address, name and any other information you choose to include in the body of your email or responses. If you contact us by phone, we will collect the phone number you use to call CLEMTA. If you contact us by phone as a CLEMTA User, we may collect additional information in order to verify your identity.
If you are a CLEMTA User, you will provide your contact details, such as name, postal address, telephone number, and email address. As part of your business relationship with us, we may also receive financial and personal information about you, such as your date of birth and government identifiers associated with you and your organization (such as your ID number, Social Security Number, Taxpayer ID, Tax Number, or Employer Identification Number).
When we conduct fraud monitoring, prevention and detection activities, we may also receive Personal Data about you from our business partners, financial service providers, identity verification services, and publicly available sources (e.g., name, address, phone number, country), as necessary to confirm your identity and prevent fraud. Our fraud monitoring, detection and prevention services may use technology that helps us assess the risk associated with an attempted transaction that is enabled on the CLEMTA User's website or the application that collects information.
You may also opt-in to submitting information through other methods, including:
In response to your marketing or other email communications,
By participating in an offer, program or promotion
Through our social media accounts or online forums,
In connection with a real or potential business relationship with us,
By giving us your business card or contact information.
b. Information that we collect automatically on our Website and Services.
Our Website uses cookies and other technologies to function effectively. These technologies record information about your usage of our Website, including:
Browser and device data, such as IP address, device type, Internet browser type, screen resolution, operating system name and version, device manufacturer and model, language, plug-ins, add-ons and the language version of the Website you are visiting;
Usage data, such as time spent on the Website, pages visited, links clicked, language preferences, and the pages that led or referred you to our Website.
We also may collect information about your online activities on the website and connected devices over time and across third-party sites devices, apps and other online features and services. We use web log analysis software (Google Analytics etc.) on our Website to help us analyze Your use of our Website and diagnose technical issues.
To learn more about the cookies that may be served through our Website and how you can control our use of cookies and third-party analytics, please see our Cookie Policy section.
3. HOW WE USE PERSONAL DATA
a. Our products and services.
We rely upon several legal grounds to ensure that our use of your Personal Data is compliant with applicable law. We use Personal Data to facilitate the business relationships we have with our Users, to comply with our financial regulatory and other legal obligations, and to pursue our legitimate business interests. We also use Personal Data to complete payment transactions and to provide payment-related services to our Users.
Contractual and pre-contractual business relationships. We use Personal Data for the purpose of entering into business relationships with prospective CLEMTA Users, and to perform the contractual obligations under the contacts that we have with CLEMTA Users. Activities that we conduct in this context include:
Creation and management of CLEMTA accounts and CLEMTA account credentials, including the evaluation of applications to commence or expand the use of our Services;
Creation and management of CLEMTA Checkout accounts;
Accounting, auditing, and billing activities; and
Processing of payments with CLEMTA Checkout, communications regarding such payments, and related customer service.
Legal and regulatory compliance.
We use Personal Data to verify the identity of our Users in order to comply with fraud monitoring, prevention and detection obligations, laws associated with the identification and reporting of illegal and illicit activity, such as AML (Anti-Money Laundering) and KYC (Know-Your-Customer) obligations, and financial reporting obligations. For example, we may be required to record and verify a User's identity for the purpose of compliance with legislation intended to prevent money laundering and financial crimes. These obligations are imposed on us by the operation of law, industry standards, and by our financial partners, and may require us to report our compliance to third parties, and to submit to third party verification audits.
Legitimate business interests. 
We rely on our legitimate business interests to process Personal Data about you. The following list sets out the business purposes that we have identified as legitimate. In determining the content of this list, we balanced our interests against the legitimate interests and rights of the individuals whose Personal Data we process. We:
Monitor, prevent and detect fraud and unauthorized payment transactions;
Mitigate financial loss, claims, liabilities or other harm to Users and CLEMTA;
Respond to inquiries, send service notices and provide customer support;
Promote, analyze, modify and improve our products, systems, and tools, and develop new products and services;
Manage, operate and improve the performance of our Website and Services by understanding their effectiveness and optimizing our digital assets;
Analyze and advertise our products and services;
Conduct aggregate analysis and develop business intelligence that enables us to operate, protect, make informed decisions, and report on the performance of, our business;
Share Personal Data with third party service providers that provide services on our behalf and business partners who help us operate and improve our business;
Ensure network and information security throughout CLEMTA and our Services; and
Transmit Personal Data within our affiliates for internal administrative purposes.
Payment transactions and related services. 
We use third-party payment services for payment transactions. The data you provide to complete the payment process is collected and processed by the third-party payment processing service providers. We recommend that you review these third-party payment services' Privacy Policy and Terms of Use to learn how they use your payment data.
If we need to use your Personal Data in other ways, we will make a specific notice at the time of collection and we will get your consent in the event that the applicable laws require.
b. Marketing and events-related communications.
We may send you email marketing communications about CLEMTA products and services, invite you to participate in our events or surveys, or otherwise communicate with you for marketing purposes, provided that we do so in accordance with the consent requirements that are imposed by applicable law. When we collect your business contact details through our participation at trade shows or other events, we may use the information to follow-up with you regarding an event, send you information that you have requested on our products and services and, with your permission, include you on our marketing information campaigns.
c. Interest-based advertising.
When you visit our Website or online services, both certain third parties and we collect information about your online activities over time and across the different website to provide you with advertising about products and services tailored to your individual interests (this type of advertising is called "interest-based advertising"). These third parties may place or recognize a unique cookie or other technology on your browser (including the use of pixel tags). Where required by applicable law, we will obtain your consent prior to processing of your information for the purpose of interest-based advertising.
You may see our ads on other sites or mobile apps because we participate in advertising networks. Ad networks allow us to target our messaging to users based on a range of factors, including demographic data, users' inferred interests and browsing context (for example, the time and date of your visit to our Website, the pages that you viewed, and the links that you clicked on). This technology also helps us track the effectiveness of our marketing efforts and understand if you have seen one of our advertisements.
We work with advertising networks (Google AdWords, etc.). To learn how to opt out of behavioral advertising delivered by Network Advertising Initiative member companies, please visit the Network Advertising Initiative and Digital Advertising Alliance. If you opt out from interest-based advertising, you may see advertising that is not relevant to you.
4. HOW WE SHARE PERSONAL DATA.
CLEMTA does not sell or rent Personal Data to marketers or unaffiliated third parties. We share your Personal Data with trusted entities, as outlined below.
We may share your Personal Data to (i) satisfy any applicable law, regulation, legal process, or governmental request; (ii) enforce this Privacy Policy and our Terms of Service, including investigation of potential violations hereof; (iii) detect, prevent, or otherwise address fraud, security, or technical issues; (iv) respond to your requests; or (v) protect our rights, property or safety, our users and the public. This includes exchanging information with other companies and organizations for fraud protection and spam/malware prevention.
We share Personal Data with a limited number of our service providers. We have service providers that provide services on our behalfs, such as identity verification services, website hosting, data analysis, information technology and related infrastructure, customer service, email delivery, and auditing services. These service providers may need to access Personal Data to perform their services. We authorize such service providers to use or disclose the Personal Data only as necessary to perform services on our behalf or comply with legal requirements. We require such service providers to contractually commit to protect the security and confidentiality of Personal Data they process on our behalf. Our service providers are predominantly located in the European Union and the United States of America.
We may disclose information in the aggregate to third parties relating to user behavior in connection with actual or prospective business relationship with those third parties, such as advertisers and content distributors. For example, we may disclose the number of users that have been exposed to, or clicked on, advertising banners.
We may use third-party advertising companies to serve ads when you visit the CLEMTA Services. These companies may use information about Your Public Content (not including your name, address, email address, or telephone number) and Activity related to your use of the CLEMTA Services to provide advertisements about goods and services of interest to you.
We will encourage our service partners to adopt and post privacy policies. However, the use of your personal information by our service partners is governed by the privacy policies of those service partners and is not subject to our control. You acknowledge that we are not responsible for the violations caused by our service partners.
We share Personal Data with third-party business partners when this is necessary to provide our Services to our Users. Examples of third parties to whom we may disclose Personal Data for this purpose are banks and payment method providers (online payment) when we provide payment processing services, and the professional services firms that we partner with to deliver CLEMTA.
We share Personal Data with Users as necessary to maintain a User account and provide the Services. We share data with parties directly authorized by a User to receive Personal Data, such as when a User authorizes a third-party application provider to access the User's CLEMTA account using CLEMTA Connect. The use of Personal Data by an authorized third party is subject to the third party's privacy policy.
In the event that we enter into, or intend to enter into, a transaction that alters the structure of our business, such as a reorganization, merger, sale, joint venture, assignment, transfer, change of control, or other disposition of all or any portion of our business, assets or stock, we may share Personal Data with third parties for the purpose of facilitating and completing the transaction.
We share Personal Data as we believe necessary: (i) to comply with applicable law, or payment method rules; (ii) to enforce our contractual rights; (iii) to protect the rights, privacy, safety and property of CLEMTA, you or others; and (iv) to respond to requests from courts, law enforcement agencies, regulatory agencies, and other public and government authorities, which may include authorities outside your country of residence.
5. YOUR RIGHTS AND CHOICES.
You have rights regarding our use and disclosure of your Personal Data:
Right of Access: You have the right to obtain confirmation from us as to whether or not personal data concerning you are processed, and, where that is the case, you have the right to request and get access to that personal data.
Right to Rectification: You have the right to obtain the rectification from us of inaccurate personal data and you have the right to provide additional personal data to complete any incomplete personal data.
Right to Erasure ("Right to be Forgotten"): In certain cases, you have the right to obtain from us the erasure of your personal data.
Right to Restriction of Processing: You have the right to obtain from us restriction of processing, applicable for a certain period and/or for certain situations.
Right to Data Portability: You have the right to receive from us in a structured format your personal data and you have the right to (let) transmit such personal data to another controller.
Right to Object: In certain cases, you have the right to object to the processing of your personal data, including with regards to profiling. You have the right to object to the further processing of your personal data in so far as such data have been collected for direct marketing purposes.
Right to be Not Subject to Automated Individual Decision-Making: You have the right to not be subject to a decision based solely on automated processing.
Right to Filing Complaint: You have the right to file complaints with the applicable data protection authority on our processing of your personal data.
Right to Compensation of Damages: In case we breach applicable legislation on the processing of your personal data, you have the right to claim damages from us for any damages such breach may cause with you.
6. SECURITY AND RETENTION.
We are making reasonable efforts to provide you with an appropriate level of security at the risk associated with the processing of your Personal Data. We take organizational, technical and administrative measures designed to protect your Personal Data against unauthorized access, destruction, loss, alteration or abuse. Your Personal Data may only be accessed by a limited number of personnel who need access to information in order to perform their duties. Unfortunately, no data transmission or storage system can be guaranteed to be 100% secure. If you have a reason to believe that your interaction with us is no longer secure (for example, if you think your account is compromised) please contact us immediately.
If you are a CLEMTA User, we retain your Personal Data as long as we are providing the Services to you. We retain Personal Data after we cease providing Services to you, even if you close your CLEMTA account, to the extent necessary to comply with our legal and regulatory obligations, and for the purpose of fraud monitoring, detection and prevention. We also retain Personal Data to comply with our tax, accounting, and financial reporting obligations, where we are required to retain the data by our contractual commitments to our financial partners, and where data retention is mandated by the payment methods that we support. Where we retain data, we do so in accordance with any limitation periods and records retention obligations that are imposed by applicable law.
7. COOKIE POLICY
Cookies are small text files stored in a computer's web browser memory. They help website providers with things like understanding how people use a website, remembering a User's login details, and storing website preferences. This article explains how we use cookies and other similar technologies to help us ensure that our Services function properly, prevent fraud and other harm, and analyze and improve the Services in accordance with our Privacy Policy.
How We Use Cookies
Cookies play an important role in helping us provide personal, effective and safe Services. We use cookies on our website. We change the cookies periodically as we improve or add to our Services, but we generally use cookies for the following purposes:
To Operate Our Services: Some cookies are essential to the operation of our website and Services. We use those cookies in a number of different ways, including:
Authentication
Fraud Prevention and Detection
Site Features and Services
To Analyze and Improve Our Services: Cookies help us understand how to make our website and Services work better for You. Cookies tell us how people reach our website and they give us insights into improvements or enhancements we need to make to our website and Services.
For Better Advertising: Cookies can help us provide more effective advertising on our website. For example, we might use a cookie to help prevent You from seeing the same advertisement multiple times or to measure how many times an advertisement is viewed or clicked on.
How We Use Other Technologies
Pixel tags: Pixel tags (also known as web beacons and clear GIFs) may be used in connection with some Services to, among other things, track the actions of Users (such as email recipients), measure the success of our marketing campaigns and compile statistics about usage of the Services and response rates.
Third Party Analytics: We use Google Analytics, which uses cookies and similar technologies, to collect and analyze information about use of the Services and report on activities and trends. This service may also collect information regarding the use of other sites, apps and online resources. You can learn about Google's practices on the Google website. Please refer to the table below for more on how we use third party analytics.
Flash Cookies: We may use Adobe Flash and other technologies to, among other things, collect and store information about Your use of the Services. If You want to block or control flash cookies, You can adjust Your settings.
How to Manage Cookies
Your web browser may allow You to change Your cookie preferences, including to delete and disable CLEMTA cookies. Please consult the help section of Your web browser to understand Your options, but please note that if You choose to disable the cookies, some features of our website or Services may not operate as intended.
8. INTERNATIONAL DATA TRANSFERS.
We are a global business. Personal Data may be stored and processed in any country where we have operations or where we engage service providers. We may transfer Personal Data that we maintain about you to recipients in countries other than the country in which the Personal Data was originally collected, including to the United States. Those countries may have data protection rules that are different from those of your country. However, we will take measures to ensure that any such transfers comply with applicable data protection laws and that your Personal Data remains protected to the standards described in this Privacy Policy. In certain circumstances, courts, law enforcement agencies, regulatory agencies or security authorities in those other countries may be entitled to access your Personal Data.
9. USE BY MINORS.
The Services are not directed to individuals under the age of eighteen (18), and we request that they not provide Personal Data through the Services.
10. UPDATES TO THIS PRIVACY POLICY AND NOTIFICATIONS.
We may change this Privacy Policy from time to time to reflect new services, changes in our Personal Data practices or relevant laws. The "Last updated" legend at the top of this Privacy Policy indicates when this Privacy Policy was last revised. Any changes are effective when we post the revised Privacy Policy on the Services. We may provide you with disclosures and alerts regarding the Privacy Policy or Personal Data collected by posting them on our website and, if you are a User, by contacting you through your CLEMTA Dashboard, email address and/or the physical address listed in your CLEMTA account.
11. LINKS TO OTHER WEBSITES.
The Services may provide the ability to connect to other sites. These sites may operate independently from us and may have their own privacy notices or policies, which we strongly suggest you review. If any linked website is not owned or controlled by us, we are not responsible for its content, any use of the website or the privacy practices of the operator of the website.
12. JURISDICTION-SPECIFIC PROVISIONS.
California residents: If you are a California resident, then, subject to certain limits under California law, you may ask us to provide you with (i) a list of certain categories of Personal Data we have disclosed to third parties for their direct marketing purposes during the immediately preceding calendar year; and (ii) the identity of those third parties. To make this request, California residents may contact us as specified in the Contact Us section below.
13. CONTACT US
If You have any questions or complaints about this Privacy Policy, please contact us at [email protected].